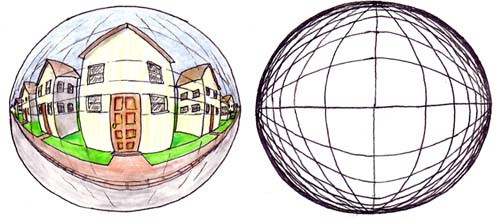 Yes but HOW do we "know"? We "know" by using a warped reference scale to judge the objective size of things in the warped subjective world. If we measure distances, and even straightness itself, using this warped reference grid, we can see that all the houses are the same height and width and depth, and that they are really all straight and vertical, not warped and bulgy as they appear.
I don't know if I see anything warped at all! Looks perfectly straight to me!
---
© 2003 Steven Lehar, Manchester, MA USA. All rights reserved.